2019 Volvo V60 Cross Country : The Perfect Getaway Car
February 28 2019,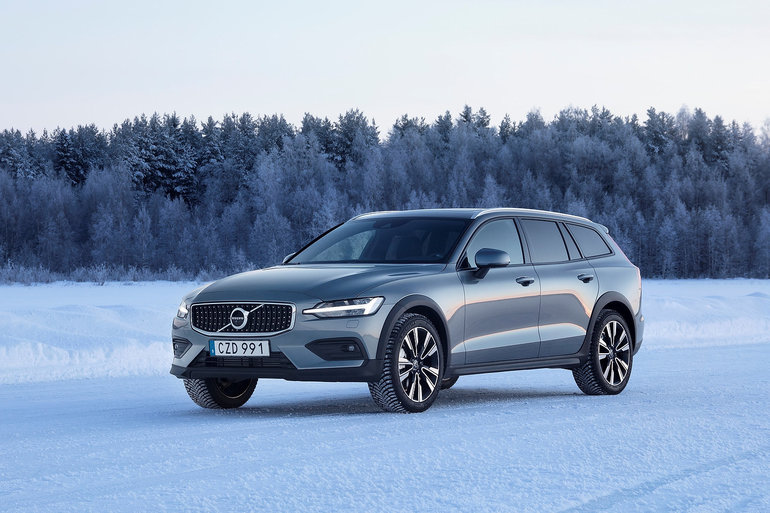 The 2019 Volvo V60 Cross Country was first unveiled back in September of last year. Based on the Volvo V60 wagon, it has a slightly more rugged exterior design, a higher ground clearance, a long-travel suspension, and a very formidable all-wheel drive system.
It's the kind of vehicle that pragmatic buyers will prefer because it accomplishes everything a sport utility vehicle can do in terms of versatility and cargo capacity, but it also mixes in a level of refinement, comfort, drivability and overall luxury that you would have trouble finding in an SUV, even a luxury SUV in this price range.
The new 2019 Volvo V60 Cross Country is the type of vehicle that works in every type of situation. It's quiet and smooth on the highway, agile in the city thanks to a short turning radius, a ton of driver assistance features and impeccable versatility; and worthy of any off-road path.
It's slightly edgier than the Volvo V60 in a good, subtle way. It has a bit more bite and a bit more personality than the V60 which may suit a young suburban family better. Put it this way, the V60 is great when the kids are very young. The 2019 Volvo V60 Cross Country is the model you buy when the kids have become teenagers and the whole family has to get to the cottage or the slopes with all their gear and safely.
Or like many families in Ontario, elsewhere in Canada or in the northeastern United States, you can just buy a V60 and a V60 Cross Country and you'll be all set for any adventure!
As for the 2019 Volvo V60 Cross Country itself, know that it behaves like a car and drives like a car. Powered by a 2.0-liter turbocharged four-cylinder engine with 250 horsepower and 258 pound-feet of torque, it has quite a bit of punch under the hood and puts the driver in complete confidence all the time.
It feels fast, but also always in control. The refined and advanced AWD system is complemented by an available Off-Road driving mode that perfectly adapts to any terrain. It will control downhill descents for you, climb any icy hill, and get you through any path in the woods or in the country.
Inside the V60 Cross Country, luxury abounds and so does technology. Enjoy the available Sensus Connect infotainment system that's as user-friendly as any tablet you already own and of course a host of active safety systems. Volvo invented the seatbelt, after all. There's very little they haven't thought of when it comes to safety and that includes an automatic braking system that can detect other cars, pedestrians, but also large animals and stop the V60 Cross Country for you should you be distracted.
The 2019 Volvo V60 Cross Country perfectly represents and meets the needs of the active buyer who wants luxury, versatility, comfort, safety, and refinement wrapped in a stylish design. Test drive the new Volvo V60 Cross Country today.